About Us
We began our involvement in Rescue many years ago. Actually we did not realize it was happening to us, in the sense of the word, but as we took each needy baby into our home and hearts, we began to realize that we had more than enough love in our hearts, but just not enough room in our bed. We discussed what we felt we should do to continue helping those in need. We participated within another group for a short period of time, but felt that we could do more on a personal basis within the State of Michigan and Peke A Tzu Rescue came into being. We love not only the young, but the old - not only the healthy, but the special needs - not only the gentle, but the aggressive. Our hearts belong to all dogs in need.

Peke A Tzu Rescue provides a loving, caring environment for all of those that arrive. When the dogs come through our door they are part of our family - what is ours is theirs. They are never crated or kenneled, but are welcomed to our couches and beds with open arms. We immediately address any health issues and all are brought up to date on shots, heartworm tested and spayed/neutered. Then the most heart wrenching care begins. To let them know that they are loved and wanted, that each in their own are very special, to put light back in their eyes, to teach them to trust a human again. There is no better feeling than to see one of these babies take little steps toward being once again, a healthy, happy, loving being. The greatest reward is that first kiss, seeing the tail wagging, having beautiful eyes looking at you with total trust. This is what rescue is all about - loving, nurturing and helping these wonderful creatures become whole once again.

We have a wonderful group of volunteers who donate their time and love. There is no financial gain for the volunteers, but the kisses, cuddles and love they receive from our babies far outweighs anything money could buy. We are fortunate to have a wonderful webmaster who designed our website and maintains the website at no cost. Our volunteers never cease to amaze us for many have donated our gift shop items so that the rescue receives 100% of the sales proceeds.

Our adoption policies are very stringent. We believe in socializing all dogs and will not place until we know that they are whole once again. There are sometimes issues that we cannot overcome, but we place these particular dogs in homes that will continue to work with all issues. We refuse to let any of our dogs go hastily, we firmly believe that time needs to be taken before we know who they really are. Each is a special individual to us and all are treated with gentleness and kindness.

We are a small breed rescue, but are out here helping all dogs. We do not have the facilities to house larger breeds, but when we find a larger breed in need we make every effort to transfer them to a reputable rescue. We have been fortunate to have helped St. Bernards, Great Danes, Cocker Spaniels, Golden Retrievers, Black Labradors and Standard Poodles. We hope that we can continue to aid all breeds.

We also have a very soft spot in our hearts for the Senior Dogs. They are loving, wonderful companions that deserve a good home no matter what amount of time they may have left. They should not be discarded and shoved to the side. These dogs are no different than our Senior Citizens - they deserve a quiet, loving environment in their later years.

We sometimes receive negative comments from potential adopters for they feel we are bias, unreasonable in our placement policies, but our only concern is for the dog and we know what they need and work very hard to find that Perfect Home for them. They deserve the best that we can provide for them.

We are very passionate about all of our babies. When you first hold these kids in your arms the tears flow. Even though many are matted, starved, flea covered, teeth rotting, eyes running they still have enough energy to look at you with eyes full of hope. That first soft touch and "I Love You" in that soft fuzzy ear begins the healing process.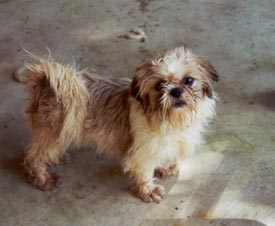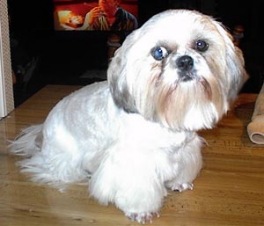 Devas - Before & After photos

Our first step was to establish an application process that was thorough enough to insure that our little ones would go to the best homes we could possibly find. We feel that we have accomplished this. We are extremely thorough, and because of the time element involved in this we sometimes lose applicants, but feel that if they are just looking for a 'dog' and not a life long companion they are not right for our babies. If you fall in love and are sincere then you wait for the process to be completed.

We strongly believe that rescue means exactly what the dictionary says "To save, as from danger or imprisonment". This does not mean taking dogs from a bad situation and kenneling them or boarding them and a week, 10 days or 2 weeks later getting them to a vet. This is only taking them from one bad situation to another bad situation. Rescuing a baby is a commitment on our part to take them into our homes and our hearts - to meet their vetting needs immediately and then to work tirelessly on the emotional needs. Once these needs have been met then it is our pleasure to find them the home that is right for them so that they can live out their lives happy, loved and whole. For the safety of the dog and future owner, it is also our responsibility as a caring rescue to evaluate the dogs properly before placing with a family.



Precious - Before & After photos

We are committed to loving and placing the dogs and our reward is not financial, but emotional. We cry every time we see one of the babies leave, but when the happy stories come accompanied by pictures it is worth every tear when we see one more baby has found their special place.

Please help educate all around you about rescue. Let people know that we are out here willing to take these dogs into our lives. If you no longer can care for your pet please do not drop them at shelters, along side the road or make the decision to have them euthanized. They all deserve so much more. Let people know about the atrocities of the puppy millers and backyard breeders. Educate those around you that purchasing from the Pet Stores is supporting and feeding the puppy millers.

We appreciate all that have taken the time to visit us. We hope that our site will provide you with information that can be passed on to others. If you can help save just one dog because you have visited us today then we, as a rescue have had one more prayer answered.

We cry with sadness when they arrive,
We share our love with them until they thrive,
We work endlessly so they never feel alone,
We cry with happiness when we know they have found their Perfect Home.

Jan and Bruce Collins
Founders, Peke A Tzu Rescue
Our hearts belong to the animals.