September 1, 2014



We hope all had a wonderful August. We were busy little pupsters here. Pretzel here was certainly kept out of trouble. Phew, glad I can relax and just vedge out for awhile. I am looking forward to this month. We have been decorating the walls in our special area. Mom bought a bunch of paw print decals and she lets us pick out the colors. My favorite is green, but she says we need to have different colors. Picky, picky!!

September 2, 2014



Hey all you pupsters…Leah reporting in. I don't know what you did for Labor Day weekend, but I got to do one of my favorite things…camping. And, I figured out I should have been a fish. I LOVE to go swimming. I beg Mom to take me swimming whenever she is heading that way. You didn't know I was so talented, did you? I asked her if we could stop by and pick all of you up, but the car just wouldn't hold all of you so you'll just have to settle for pictures. Bark at you later!!

September 3, 2014



Yeh, yeh Precious, you can laugh all you want. Collette is hear to tell everyone that you definitely do not want a Precious tongue bath. Just look at me!! What a mess..talk about a bad hairday! Geez, she follows me around and basically tackles me and lick, lick, lick, lick! I have complained to Mom, but it doesn't do me any good. What Precious wants to do, Precious gets to do. I'll talk to you all later. I need to go take a real bath!

September 4, 2014



Greeley reporting in with my brother Mac. Sorry my ears are down, but Mac and I just got a "talking to" by Mom. We dug another hole and she wasn't happy with either of us. Mac just takes it in stride. He tells me this to shall pass, but I might think twice about digging another hole. Of course Mac talked me into it…I had absolutely nothing to do with the idea! All you pupsters believe me, don't you?

September 5, 2014



We are totally bored today!! It is raining cats and dogs….excuse the pun. Also, we are getting thunder boomers that are shaking the house. Now we three have no issues with the noise and lightening, but you should see some of the other pupters. Geez, you'd think the world was coming to an end. We try to tell them just to relax like us until the storm is all over. Mom and Dad sure have a lap full. We think a lot of the pupsters just use the storms as an excuse to get more lap time!!

September 6, 2014



Ritter here can't look anymore. This is so humiliating! I can't believe all of us pupsters couldn't wait to settle down in front of the TV with our popcorn to watch our favorite college team. Notice I am not even saying the name. We kept barking them to get their poop in order, but it didn't do us any good. It got so bad we were switching over to watch that "other Michigan team" play and that's getting pretty desperate. Now Mom did give us a lecture on our attitude. She said not to be so disappointed. It isn't winning that counts. Puleeeeze Mom, 31-0 counts!!!!
Well, we have to admit we'll continue to be dedicated to U of M. Everyone makes mistakes you know. If Mom can continue to stick with the Lions, we can do this!

September 7, 2014



Well, all of our work paid off! We pupsters watered and watched over our very own tomato plants and look what happened? We are absolutely amazed at how many tomatoes one little plant can make. There just isn't anything tastier than a home grown Michigan tomato. Dad is fixing tacos tonight for dinner so these sure will come in handy!

September 8, 2014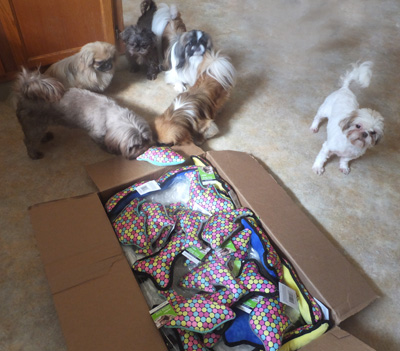 We all are settling in for our morning naps. We have been out romping and playing wearing off our yummy breakfast. We thought all of you might enjoy seeing what we have been up to. See all of our neat pawprints on the wall? Pretzel did get her way on the green, but we all got to pick out colors we liked too. We talked Mom into adding a few to our dresser also. We think everything turned out really neat…what do you think?

September 9, 2014



Come on Mom, you don't need to worry about Sushi, Panda and Razzy! We would never even consider trying to get out the gate if someone happens to open it. Don't you think having a padlock on it is going a bit too far? You need to trust us. OK, will have to admit that Panda might appear ready to bolt, but he really wouldn't do it. Come one, just give us a chance to prove we are trustworthy. Why do we get the feeling this conversation is going nowhere!

September 11, 2014



You know Mom, McKenna here has just about had enough of Cooper sneaking around behind me and then grabbing my tail on the way by. He not only does this to me, but some of the other pupsters also. Then he runs like crazy snickering all the way. We all are fed up with his antics. We held a meeting and voted to take matters into our own paws if he will not listen to you!

September 13, 2014



Aw, look at this. Mom was out gardening and she didn't realize she brought a little friend back in with her on her gloves. We love to watch these fuzzy little caterpillars, but one thing we have learned. You don't put them in your mouth. Shall we say they have a bit of a "bite" to them? We are also amazed at how many feet they have. Boy, could we ever move like the wind if we had that many feet. No one would ever catch us.!

September 15, 2014



Oh come on you guys…it wasn't that bad! Honest it was just an itty, bitty one. You all are making more out of this than necessary. Quit it with all of these theatrics. Guess it must be something Mom has been feeding us or maybe it was some of Aunt Judy's baked beans that I snuck a bite of. All I can say is get over it! This too shall pass…HA!

September 17, 2014



This is my very own Miss Lamby. She and I spend a lot of time together. When I am feeling down she always makes me feel better. Miss Lamby even forgives me if I pull a little too hard on her ear or accidently lay on her during my nap. She and I discuss all of the activities during the day before we snuggle in for the night. I just do not know what I would do without her.

September 23, 2014



This past Friday we lost our sweet Cadbury. He arrived 10 years ago and was severely abused. We knew we couldn't place him quickly and began working with him. Before we knew it he had crawled deeply into our hearts and became part of our family. We would like to thank all of you for your prayers over the past year for Cadbury when we let all know he had cancer and was given only a few months. He surprised everyone with his extended stay.




Priscilla arrived a few days after Cadbury and also was an extreme abuse case. They were drawn to each other immediately and we know they helped heal each other. They were inseparable. The few times we took a couple of days away from the crew Cadbury and Priscilla always came with us for they did not do well if separated from Bruce and I. Please keep Priscilla in your prayers for she is having a very difficult time without her best friend beside her.
It is babies like Cadbury and Priscilla who inspire us to continue on our mission to help those in need. No matter how tired we get or how many tears we shed we will continue to help until we are physically unable to do so.

September 25, 2014



We have so been enjoying the unusually nice weather for this time of year. We pupsters went out and picked the last of our beautiful flowers today and are each enjoying the color and scents. You know this gardening stuff isn't so bad after all! Of course you could say Mom bribes us a bit. After our work is done she gives us each two wonderful treats!

September 27, 2014



So, here we were just enjoying the day and all of a sudden Ritter set off the alarm. By his bark we could tell something just wasn't quite right. We all rushed to the window and low and behold we saw two horses just munching away at our grass. We could hardly contain ourselves and wanted to go right out and meet them. Mom put a stop to that right away.




Then all of a sudden there were two more. Now, you can imagine how excited we were getting! In the meantime Dad was on the road trying to find the owners. While he was gone we kept a close eye on the horses. They were even drinking out of our bird baths. After a few hours the owner was located. Thank goodness because we didn't think there would be any grass left. Hey, maybe Dad won't have to mow. Oh, by the way…we are here to tell you our poop bucket isn't anywhere near big enough!!
Copyright© 2004 - 2014, Peke A Tzu Rescue. All Rights Reserved.
Pekingese Rescue, Shih Tzu Rescue, Maltese Rescue, Poodle Rescue & Yorkie Rescue.
Contents of this site are the property of Peke A Tzu Rescue.
Do not take anything from the site without permission.