July 1, 2014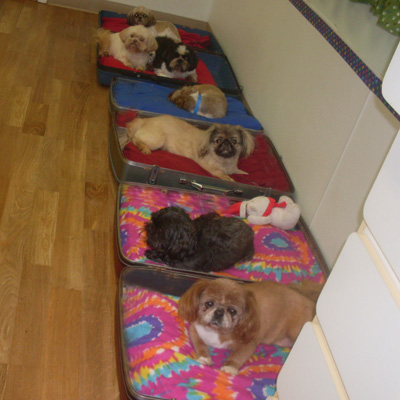 Oh for pupsters sake Mom, you aren't actually listening to Petals are you? There is no way Chica and Samona here were picking on her. Geez, just look at our faces. Do we look like pupsters that would misbehave in that manner? We respect all of the other pupsters here and would never consider treating them with anything but respect!

July 2, 2014



Oh Yuk! Tierra here is absolutely disgusted with the behavior of Konrad and Barone flaunting their all together. About all I can do is turn my back on them. Then they both snicker and roll to wherever I am at. I have just about had enough of their inappropriate behavior. Mom you had best get them under control or I am hunting down the grooming scissors which is going to put their all togethers in great jeopardy!!

July 3, 2014



Today our Greeley met his Mom and pupster brothers. He jumped right into his Mom's arms like he had known her forever. He even gave her some of his slurpy kisses. Now, as for his brothers…he wasn't quite sure about them. He stuck close to his Mom. Of course we know how he operates for we saw him many times wrap Auntie Jan and Unkie Bruce right around his little paws. He acts all shy and then gets all of the attention. We are going to miss him though. He always made each of our days very special.

July 4, 2014



We all want to wish you a wonderful 4th of July. We would like all of you to please keep all of the men and women that so courageously serve our country in your daily prayers. We definitely are not political pupsters and we feel that all living creatures should join together for the good of all. It is amazing what can be accomplished when you work side by side with the same common goal – we pupsters are living proof of that.

July 5, 2014



Hey everyone, Leah reporting in. Wow, am I ever having a great time this weekend. The whole family is spending the weekend together camping. This was my first time camping and I am lovin' it! Today Mom took me for a bike ride. At first I wasn't too sure about it, but after while I realized how much fun it was cruisin' around with Mom. Have a nice cushy basket to snuggle into, can see all that is going on and love the wind blowing through my hair. I hope all my pupster friends are having as much fun as I am this weekend!

July 6, 2014



MOM!!!!! We think you had best come in here! Frisco and Buffy are getting shall we say a bit "too friendly"? They obviously have not read the PATR Pupster Guidelines. No kissing, holding paws or romantic involvements. If they have read the guidelines they are deliberately ignoring them. We have had enough of their amorous behavior so would you please talk to them?

July 7, 2014



Bambi here cuddling my favorite toy. It is a rainy day and I sometimes get the blues. Mr. Whale always cheers me up. The great thing is Mr. Whale never complains about sharing the bed, doesn't care if I lay on top of him or lick his face. He and I are the best of friends and he always helps cheer me up if I am feeling a bit down. Couldn't ask for a better friend!!

July 9, 2014



Kale and Spicey reporting in! Well, we went to visit our new vet today with Mom. Believe it or not we were absolute angels. I know that you pupsters may not believe it, but we really were. All went well and we sat in Mom's lap like the little angels we are.




Once in the car we settled in for our ride home. We both miss all of you, but we sure love our Mom, Dad and sisters! Talk to you later....

July 11, 2014



Mom, you need to talk to Meeka and Cooper. They keep making fun of me. Cooper keeps whispering in Meeka's ear just loud enough for me to hear "You know that Nutmeg is really funny looking, don't you think?" Geez, just because I don't have short hair and need my face combed all the time they think I am weird. You need to make it clear to them that around here we believe everyone is created equal!!

July 13, 2014



Happy, Teddy and Shasta reporting in! We wanted to let all of you pupsters know we are doing great! Shasta is getting a little rest now with we two Shih Tzu boys together once again. We let him get up on the couch, rest and just watch us as we do the Shih Tzu blitz. Our Mom and Dad are the greatest and we couldn't be any happier!

July 15, 2014



So, what does everyone think of Rossy's new hair cut? I begged and begged Mom to let me get a puppy cut for the summer. Most of the other pupsters had one so I only figured it was the fair thing to do. I love my new look and told Mom I promised I would let my hair grow out again for she thinks I look so handsome with what she calls a "full coat". I am more into this short look…less combing, rah!

July 17, 2014



Well everyone, here I am in my very own bed with no other pupsters trying to crowd in. Greeley here has been very busy. I went on a camping trip and my two brothers have really been keeping me busy. I have all kinds of new things to explore and am having so much fun. Miss all of you and send you some of my big slurpy kisses…I know you miss them!

July 19, 2014



We pupsters have shared this picture with you in prior years. As before we think this is absolutely amazing! We do not know about all of you, but we pupsters are beginning to wonder about the direction our country is taking and feel many have forgotten what this great country is really all about. We think this is a wonderful reminder of who we are and what we stand for. Todays world is concerning for all of us. We all need to unite and once again become "We the People". This picture was taken in 1918 of 18,000 men preparing for war in a training camp at Camp Dodge in Iowa.

July 21, 2014



When Teddy (fka Layne) lived with us he had an appetite, shall we say for a certain "cuisine"? No matter what we told him, how many time outs he received or explaining to him the error in his culinary choices he did not waver. Thank goodness his Mom and Dad understand and have a lot of patience. They also have a great sense of humor seen through this picture they sent which put a smile on our faces as we are sure it will for all of you also.
Copyright© 2004 - 2014, Peke A Tzu Rescue. All Rights Reserved.
Pekingese Rescue, Shih Tzu Rescue, Maltese Rescue, Poodle Rescue & Yorkie Rescue.
Contents of this site are the property of Peke A Tzu Rescue.
Do not take anything from the site without permission.