February 1, 2019



Well, the big day is almost here. We pupsters love football!! We have the popcorn at the ready, sippy cups are ready to be filled and we have all scoped out which position we will hold to watch the big game. The Shih Tzu are hoping the Patriots will win, but the Pekeys are all in for the Rams. The Shih Tzu girls are still in love with Tom Brady, but we Rams Pupster Fans really think they should take a look at Jared Goff...he's young and a hunk!!

February 3, 2019



Well, what more can we Shih Tzu girls say???? The Pekeys were wrong again...we'll stick with Tom Brady....Yayyyyyyyyyyyy!!

February 6, 2019



The past few days have been wonderful. Three of our sweet babies found their Forever Homes. Camilla our little wild child, Frisco our adorable senior poodle and Higgins our little snuggle bug. We sure are going to miss them!

February 11, 2019



We are patiently waiting for Sylvie to choose which toy she would like...geez pupster women...it takes so long for them to make up their minds! Then she'll take the toy she chooses and hide it and come back for more! This needs to stop because the rest of we pupsters don't even have a chance of playing with the toys.

February 14, 2019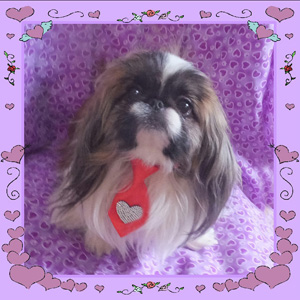 We would like to wish everyone the very best Valentineís Day ever! We hope all received special kisses and hugs today. Of course a little candy and flowers thrown in would be a plus. Always remember those that you love with something very special. We arenít allowed candy and of course we would probably eat the flowers, but we can handle any kisses and hugs that come our way! Happy Valentines Day to all!

February 28, 2019



We are closing this month in memory of our Unkie Lorry who left us on the 14th to join his loved ones who have preceded him. He will be missed. "Tis a very difficult time for all of us.
Copyright© 2004 - 2019, Peke A Tzu Rescue. All Rights Reserved.
Pekingese Rescue, Shih Tzu Rescue, Maltese Rescue, Poodle Rescue & Yorkie Rescue.
Contents of this site are the property of Peke A Tzu Rescue.
Do not take anything from the site without permission.